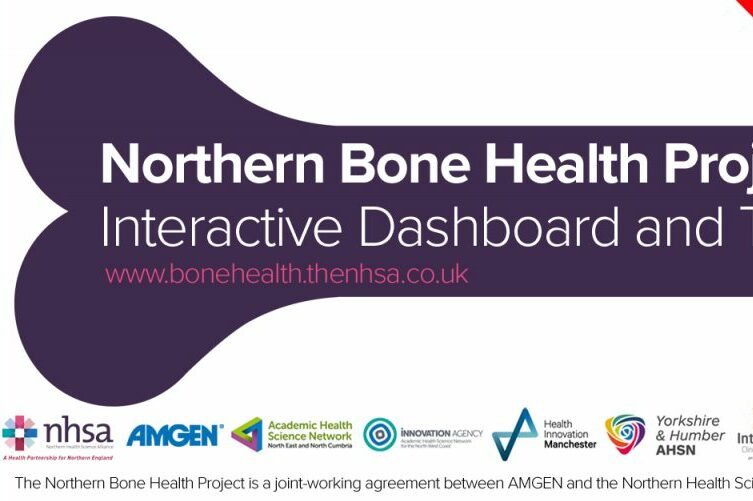 The outcomes of an innovative project to reduce the risk of older people breaking bones have been shared in an interactive dashboard and toolkit.
The Northern Bone Health project is a joint-working agreement between the Northern Health Science Alliance and AMGEN, working in partnership with the AHSN for the North East and North Cumbria, the Innovation Agency, Health Innovation Manchester, Yorkshire and Humber AHSN, Interface Clinical Services and the University of Sunderland.
The Northern Bone Health Project involved five CCGs with 59 GP practices covering a registered practice population base of 551,550.
Over an 18-month period, the project identified patients at high risk of breaking bones, those with osteoporosis and related fractures, evaluated medications and treated those patients, where appropriate, with a bone-sparing agent to improve bone density.

The results [1] included:
More than 27,000 patients who were at high risk of developing fractures had their fracture risk assessed.
Over 7,000 were identified for primary prevention treatment (which is treatment before the fracture has occurred, therefore reducing the risk of developing fractures in the future).
Over 14,000 patients were identified as having fractures due to weak bones (osteoporosis and related conditions).
Around 3,000 patients (over 75 years) were identified for secondary treatment, and 5,000 (between ages 50-74) were identified for further bone health assessment and treatment.
More than 6,800 medication reviews were carried out which included treatment recommendations, safety checks, suggestions on alternative medications and advice on how best to take their medications.
Over 12,500 patients with osteoporosis were identified and treatment initiated for those not on medication.
It's estimated that scaled up to the population level of the North's 16 million, this could save the NHS over £35 million in direct costs and an additional £8,454,046 in residential costs, with a total of £43,617,688 potential savings in health and social care [2].  
As the project has now come to an end, an online interactive dashboard and toolkit has been launched to share the outcomes and evidence from the collaborative work.
The interactive resource outlines how the project can be reproduced in other areas, including a 'How To' guide for implementation across primary care, a Return on Investment (ROI) calculator and evaluation of the outcomes.
Dr Sunil Nedungayil, Associate Medical Director for Healthy Ageing at the NHSA, said: "This has been a fantastic collaborative project bringing together a wide range of partners. The potential to transform preventative care for patients at high risk of breaking bones has been proven. We are delighted with the outcomes and wanted to share the processes used during the project as a learning resource for primary care, secondary care, and commissioning colleagues to access should they wish to reproduce the work in other areas."
The findings of the project have been welcomed by leading experts in the field, including Professor Cyrus Cooper OBE, President of the International Osteoporosis Foundation. He said: "It is a pleasure to see the fascinating findings arising from the Northern Bone Health Project. The results of this work have major implications for UK health policy in both primary and secondary fracture prevention.
"In primary care, the data identify almost 10% of patients aged over 50 years who would benefit from osteoporosis risk assessment and potential pharmacologic intervention; and in secondary prevention, a worrying treatment gap persists at over 50%, for patients with a previous fragility fracture who warrant investigation and treatment.
"The design of policy initiatives for this major cause of locomotor dysfunction and frailty in our ageing population become an urgent priority, especially as validated integrated care pathways for appropriate action are already available."
View the interactive dashboard and toolkit at: https://bonehealth.thenhsa.co.uk/
To find out more about the Northern Bone Health project, please visit: www.thenhsa.co.uk/what-we-do/bone-health/
References
[1] www.bonehealth.thenhsa.co.uk/evaluation/
[2] Scaling up calculations based on a three-year treatment programme for people at highest risk of fractures
---
---