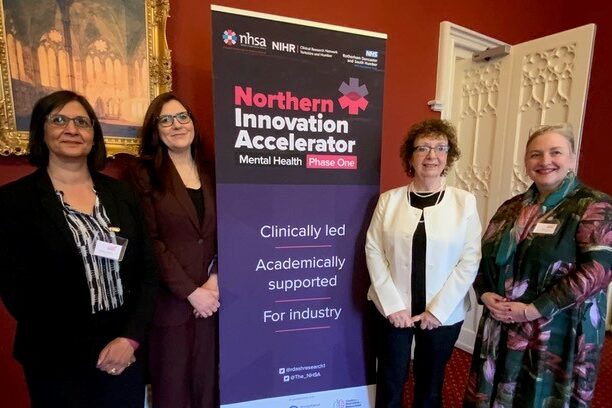 Patients across the North of England will be among the first to experience a new initiative to help improve mental health, thanks to an innovative partnership that will accelerate solutions to mental health challenges that NHS Trusts face.  
The Northern Innovation Accelerator for Mental Health (NIAMH), in partnership the NHSA, will bring together mental health expertise from within the NHS and academia, working in collaboration with innovators to develop and evaluate their mental health solutions within the NHS – reaching a potential population of 17m patients.   
The Accelerator is designed to spearhead innovation in mental health research that is clinically led and academically supported for industry. It aims to supercharge mental health innovation with urgency, for speedier advances to address the UK's pressing mental health needs at scale.  
The need for innovation and vital investment in mental health across the North of England has recently been shown by the NHSA's Parallel Pandemic report, which found that mental health in the North was significantly worse than the rest of England over the course of the Covid-19 pandemic, with a £2 billion cost to the country.  
Yorkshire and Humber will be the first place in the North of England to benefit from NIAMH , with Phase One in partnership with Grounded Research, the research and innovation team at Rotherham, Doncaster and South Humber NHS Trust (RDaSH) and the NIHR Clinical Research Network Yorkshire and Humber.   
 The first phase will have an initial focus on Yorkshire and Humber, with a view to eventually expanding the accelerator to other parts of the North.      
NIAMH was launched at an event hosted by  RDaSH yesterday (Tuesday 28 March)  in Doncaster.  The event outlined the mental health challenge, articulated the vision for NIAMH, showcased early exemplars and evidenced how the initiative can support the North's mental health agenda. 
Dr Mandy Dixon, Head of Corporate Engagement at the NHSA said: "Post-pandemic, the need to innovate in mental health services is greater than ever, particularly with the growing evidence of the economic impact of poor mental health on the economic recovery.   
"Mental health care has been an underserved area of acute need for some time, and the purpose of NIAMH is to establish the North as a globally recognised destination for companies to bring their mental health innovations for real world evaluation and development within the NHS, supported by academic rigour and the excellent clinical trials infrastructure we have in the North.    
"We are thrilled to be launching Phase One with RDaSH and NIHR Clinical Research Network Yorkshire and Humber and hope that the Accelerator grows to benefit other areas in the future."   
Heather Rice, Director of Research and Innovation at Grounded Research, said "The new Accelerator will pull together world-class researchers, medics, academics and industry to make a real difference to people's lives – providing greater impact for people facing mental illness in the North and further afield."  
MindLife are one of the companies that are an exemplar of existing work within the accelerator. Tuvi Orbach, Chairman and Chief Executive Officer, said: "MindLife's purpose is to develop and disseminate the next generation of mental health solutions, integrating cutting edge technology and advanced psychological science. It is fantastic to be able to collaborate with NHS Trusts, academic researchers and the NHSA to identify opportunities to improve the mental health of people in Yorkshire and Humber, and I very much look forward to being part of this accelerator." 
Dekel Taliaz, CEO and co-founder of Taliaz, said: "The World Health Organization estimates that there is a four-fold return on digital solutions for mental health in improved health and productivity. This new partnership, focussing on improving the effectiveness and utility of mental health prescribing, has the potential to help hundreds of thousands of patients in the RDaSH area and a population of 17m in the North of England alone. We are looking forward to expanding our efforts in the UK." 
---
---