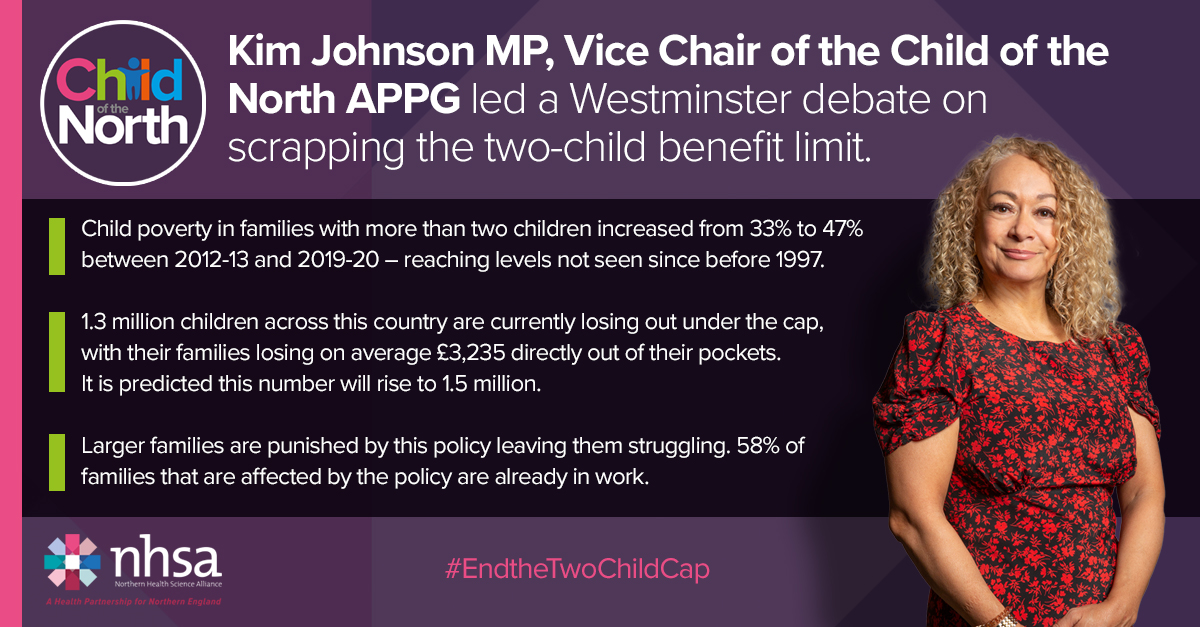 Health Equity North supports the Child of the North All Party Parliamentary Group to create a fairer future for children across the North of England and to develop policy solutions that will tackle the stark inequalities across our region so we can enable the children of the North to fulfil their potential.
We provide the Secretariat for the Child of the North All-Party Parliamentary Group which is co-chaired by Emma Lewell-Buck MP and Mary Robinson MP. The group brings together key sector organisations and MPs from across the political spectrum.
In July 2023, Kim Johnson MP for Liverpool Riverside and Vice-Chair of the Child of the North APPG, on behalf of Child of the North, led a debate in Westminster on ending the harmful Universal Credit two-child cap.
Kim argued that no child should suffer more just because of the number of siblings they have, and how scrapping the cap will lift up to 250,000 children out of poverty. Kim touched on the newly published End Child Poverty Coalition statistics, which show the true extent and impact that the cap has on families and just how far poverty stretches as a result.
You can watch the full debate at https://parliamentlive.tv/Event/Index/5a5ded48-cfca-45e9-85dd-6726b31fe2f3
---
---